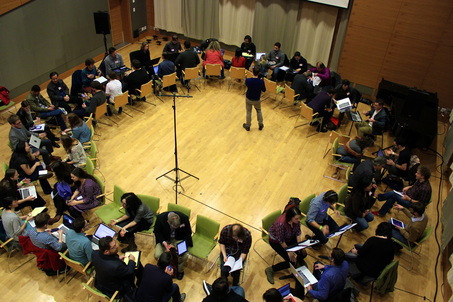 Bowling Green State University will be well represented at the 2016 New Music Gathering held at the Peabody Conservatory. The following list includes those from BGSU performing and lecturing during this highly acclaimed new music conference:
Alumnus Ryan Muncy, part of panels: "Commissioning New Music", and "New Music and Community Building"
Faculty member Ryan Ebright, part of panel: "New Music(ology) Gathering: Scholarly Perspectives on American New Music Since 1960"
Current DMA student Aaron Hynds: performance, 60 minute lecture/demo/question workshop
Current DMA student Hillary LaBonte: panel, "The Church of New Music: Places of Worship and the New Music Community"
Alumnae Viola Yip and Ellery Trafford: performance, "Instrumentalists Using the Voice"
BGSU students, faculty, and alumnae will participate in this interdisciplinary event taking place January 6-9, 2016.
From the mission statement of New Music Gathering:
"Even in a culture that thrives on connectivity, the ancient idea of simply being in the same place at the same time to exchange ideas continues to be the most effective, and New Music Gathering fills that need. 
Following the conference model, the event will be three days of performances, presentations, and discussions, but as it is to be run not by an organization but by four working musicians – Lainie Fefferman, Daniel Felsenfeld, Mary Kouyoumdjian, and Matt Marks – it should be a way to "skip the middleman" and focus on the needs and desires of the community directly. 
As it is to be based in a different city annually, aside from bringing together those who write, perform and promote "contemporary classical" music to meet, talk, and develop collaborative relationships, the Gathering will also focus on the dedicated population in that specific region."