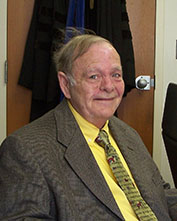 Dr. James Forse was a member of our department for 44 years and retired in 2010. The department sends our support and love to his family, friends, and former students.
If you wish to share a memory of Dr. Forse with his family, please see this link.
Dr. Forse's research and teaching focus was on Medieval and Renaissance Europe. He was the author of Art Imitates Business: Commercial and Political Influence in Elizabethan Theatre (Bowling Green State University Press, 1993), and published articles which have appeared in German History, The Journal of Medival History, SRASP, Journal of Popular Culture, and Theatre Survey .