Rob Carlock earned an MA in History and a Graduate Certificate in Public History from BGSU in May 2019. This fall, he will enter his second year in the PhD Program in History at George Mason University.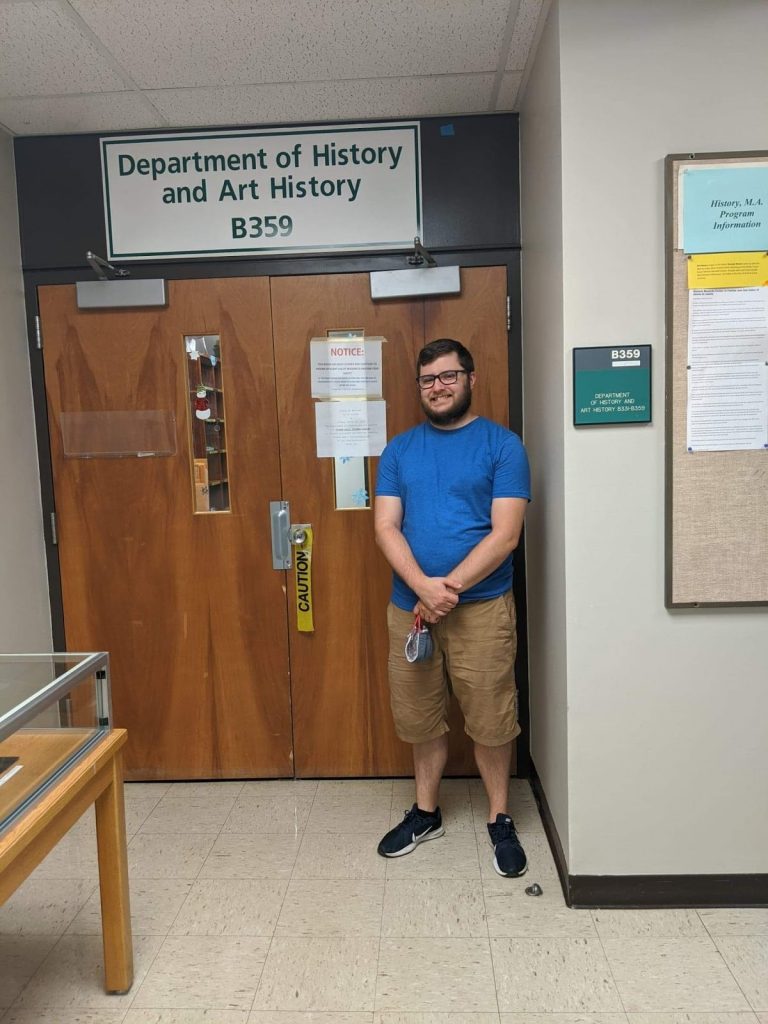 Bowling Green State University was my home for 6 years as I worked my way through my bachelor's and master's degrees in history. I then left Ohio to pursue a PhD in history at George Mason University in Fairfax, Virginia, sadly leaving behind a support network and family I had built during my time there. It has certainly been a challenge, especially since my first year has been synchronous online learning due to COVID-19. Although I have yet to meet my peers and faculty in-person, I was able to connect with many of them and begin to forge new relationships. With my peers, my connection is definitely a sense of unity that we are tackling such a daunting task together; with the faculty, my connection is a sense of confidence and support as they encourage me to continue identifying and expanding on my interests.
For the most part, the transition to a new degree program was seamless. Graduate seminars feel the same: challenging and rewarding. What was really new was the topics I could explore. I applied to George Mason University for their reputation as a leader in digital history. In my first semester I was already immersed in the topic, taking an introductory course that exposed me to various forms of digital history such as digital storytelling, data visualization, network mapping, and historical GIS. In this course, I created a GIS map that visualized the proportions of enslaved people in counties that General William Sherman marched through during his Carolinas Campaign.

My second semester allowed me to delve into seminars on digital storytelling and spatial history, introducing me further to subfields of applied and spatial history. I have decided to turn these into my minor fields, delving deep into new methodologies as well as ways to interpret and visualize historical data. I was able to produce a roughly 20 minute documentary-type interactive video in my storytelling seminar, where I learned to create videos from start to finish:
I am excited to continue this journey and delve into my new interests. In the upcoming semesters I am beginning my comprehensive exam readings. As an Americanist, I have to read roughly 50 books each on early, middle, and modern American. It will certainly be a challenge, but I feel prepared. With the lessons I learned during my time at BGSU and the peer network I will be working with on these readings, I feel like I will get through it relatively unscathed. My only words of caution are this: beware burnout. Especially with the unique transition I faced this year, it was difficult at times to remain motivated. I have two tips for managing this. First, make sure to really hone in on what you are most interested in, as that will keep you motivated. After discovering various aspects of digital history I truly enjoyed, doing the work became a breeze. Second, don't be afraid to give yourself space to breathe. I dropped one of my courses early on in the spring semester because I already felt an overwhelming amount of pressure. Make sure you are progressing in your degree, but don't push yourself to a point where you lose focus on what you enjoy doing.

All in all, if you enjoy graduate school, a PhD can be enjoyable. If you find a program where you can explore your interests and discover yourself, you will excel. It is certainly a lot of work, especially after your coursework is completed. But if you love doing research and discovering new ways to discover, interpret, and share history, a PhD program is a fantastic journey.