While I touched base on my international experiences, and how I have learned the culture of other countries through visiting them and studying them; I have certainly also taken unforgettable trips within my own home countries. I actually just returned from a ten day Florida road trip August 23rd. Four of my best friends from Germany came up to visit me in the US at the beginning of August, which shortly after we departed for a road trip. WE drove from Ohio to Daytona Beach, then to Miami, Key West, and on the way home stopping in Fort Myers. The most memorable stop on the entire trip, by far was Key West. Everything was very laid back and almost as the entire place was 20-30 years behind. The highlight of that stop was taking a snorkeling trip to the third largest and only living coral reef in the US. It was very interesting serving as a tour guide to my friends (which have never been to the US) and showing them our way of life and diverse culture here.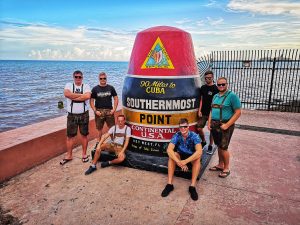 Going back to Asia, which I mentioned earlier, this last Winter I took a three week trip to Vietnam to visit a friend. Unlike China, which is considered a first world country, Vietnam is still considered a third world country. Considering the history between the US and Vietnam as in the Vietnam war (which they refer to as the American war over there) I was skeptical as first as to going there. But the people, young and older were very friendly, everyone welcomed you with an open smile; and wanted to know about yourself and what you thought of the country.
Being a once French colonized country, the coffee in Vietnam is made through the french style, where they have a drip bowl like device on the cup, where your coffee freshly drips into your cup. So if you love coffee, like myself it is a very good place to be, as you can find a coffee shop on every corner.
Adding all my trips up I have been to 40 of the US states, and about ten countries, including three continents. If you have not traveled much, I would highly advise it! A good place to start is southeast Asia, as everything is extremely cheap and you can make due with as little as $20 a day, including hotels. But also in Europe, you can get off very cheap if you stay in hostels, which can be more interesting that hotels, as many people in staying in hostels are between the age of 20-30.
I hope you all enjoyed reading about my trips and experiences, and I look forward to reading about your trips and hearing about your experiences!