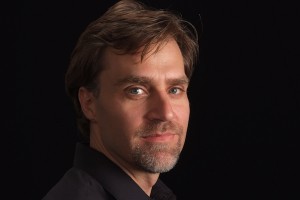 BOWLING GREEN, O.—The happy phrase "embarrassment of riches" might apply to music composition faculty member Dr. Mikel Kuehn, in terms of recognition for his work this year. He recently received the Barlow Endowment Commission for Music Composition, one of the leading commissioners of contemporary music in the United States.
This comes on top of his being named a Guggenheim Fellow last spring, when he also received a 2014 Ohio Arts Council Individual Excellence Award.
"This award is not only wonderfully prestigious for our Prof. Kuehn, but also a confirmation of the very high level of our composition department faculty," said Dr. Jeffrey Showell, Dean of the College of Musical Arts. "Among the current four composition professors, there have been two Guggenheim awards, one Fulbright, and one Barlow Endowment Commission. Extraordinary!"
A prolific composer, Kuehn's work is performed frequently worldwide and he has numerous composition commissions. Among his recorded music is an in-progress solo CD from New Focus Recordings. In March 2013, six of his works were featured at the Vienna Saxfest held at Konservatorium Wien Privatuniversität.
His work was described as having "sensuous phrases … producing an effect of high abstraction turning into decadence," by New York Times critic Paul Griffiths.