By Ami Geiselman
In doing my research on black cowboys, a primary source of particular interest that came up was the only existing autobiography by a black cowboy who lived during the Old West. The book is titled, "The Life and Adventures of Nat Love, Better Known in the Cattle Country as 'Deadwood Dick' by Himself," and within it he recounts not only his rather adventurous life in the west, but his early years as an enslaved person. To learn about the overall experience of black cowboys through secondary sources was fascinating, but to actually read the words of a person who experienced it first-hand made it more immersive and impactful. Something that surprised me throughout reading this was Nat Love's portrayal of the west in regard to racial equality.
In describing his early life on a plantation, Love denounces and criticizes the institution of slavery and details the horrors that he's seen or heard about while living enslaved. Love describes "perfect devils in human form" who took pleasure in torturing men, women, and even babies simply for being black as well as intentionally keeping enslaved people uneducated because their education would mean the end of slavery in the United States (p. 14). Despite the clear affect slavery had on Love's life, he doesn't seem to mention much about racial inequality once he heads west in his teens, and in the end is rather patriotic. His description of life in the west gives the impression that the frontier allowed his talents as a cowboy to be realized and appreciated without his character being diminished for the color of his skin. He declares, "America, I love thee, Sweet land of Liberty, home of the brave and the free." (p. 147). It would be hard to believe that if he did experience discrimination that he would omit it from his autobiography, but on the other hand the focus of his book seems to be mainly on the many adventures he had and the other notable cowboys he met throughout his life. As well, he couldn't have known his autobiography would be the only one of its kind to persist throughout history. It is just difficult to imagine loving a country that built its wealth and infrastructure on the backs of your family who were considered livestock and treated as such even after emancipation.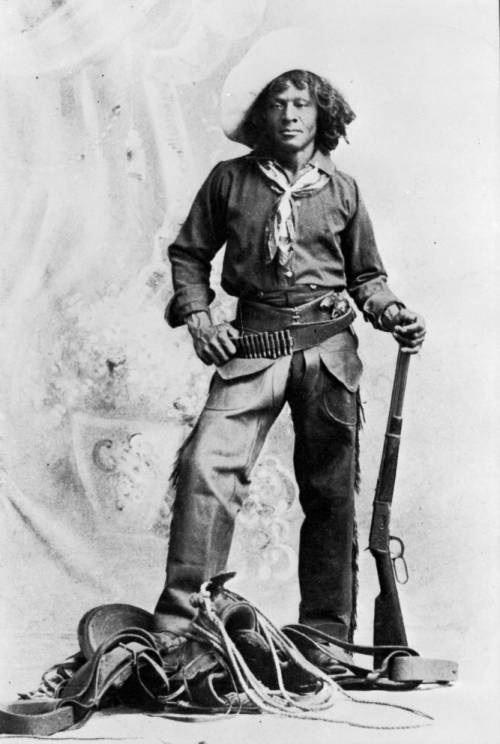 The lifestyle Love depicts in his autobiography also reflects certain aspects about the life of black cowboys in general. While not all of his more wild exploits can be verified as entirely truthful, his experiences with the dangerous conditions the frontier presented likely applied to other cowboys during that time. The interactions with indigenous people he experienced on that same trip could have also posed a threat to other cowboys, as well. Contact between indigenous tribes and cowpokes did not always mean conflict was imminent, but Love recounts both peaceful and violent encounters with them. In particular he engaged in several altercations with native tribes that resulted in the deaths of several of his cowboy colleagues and stolen goods throughout his career, but Love himself had been captured by one band. Love frequently puts indigenous people in the same category as the "white outlaws" who also presented cattle drivers with trouble (p.45). The lack of law in the frontier allowed for theft of cattle from cowboys on long rides through the west. These are just some of the many obstacles that threatened the lives and livelihoods of black cowboys.
The legacy of Nat Love is one that still lives on today in pop culture. His likeness has been used in multiple books and graphic novels, and within the past year alone, the Netflix western film, "The Harder They Fall," has named a character after him. The many exploits he shared in his autobiography has certainly cemented himself as one of the most notable heroes of the western frontier, and gave us a glimpse into life as an African-American cowboy.