This fall, a number of library databases are new or have been upgraded!
General/Interdisciplinary

The online citation-management software RefWorks is all new this fall! The new version features drag-and-drop functionality, one-click bibliography formatting, and can automatically generate citations from pdf documents. All users will need to migrate existing accounts to the new RefWorks. Learn more and sign up for a workshop here.

Kanopy contains streaming video for over 12,000 educational films and documentaries. Browse films by subject or find them listed in our catalog. New in February 2016.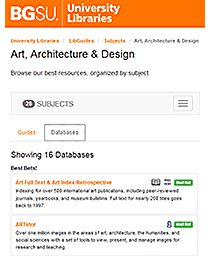 Web enhancements: This summer we upgraded our website to improve your experience finding and linking to our databases.
On our All Databases page (one of the most popular links on our home page), we updated our subject listing, adding subjects for Art, Architecture & Design; Family & Consumer Sciences; Sociology; Theatre; and more.
In LibGuides, each subject has a "subject homepage" that lists guides relevant to that subject and displays the librarians who are the experts for that subject. On a separate tab, a list of the databases we offer to support research in that subject is organized with the more relevant databases, designated "best bets," at the top. You can look at the LibGuides subject homepage for Art, Architecture & Design as an example.
More for general/interdisciplinary:
Film Industry Data
A database of rankings, box office sales, and unit sales for film releases going back to 2000 (US) and 1994 (UK). VHS, DVD and Blu Ray data is also available. Film Industry Data can be useful for research in film, popular culture, business, and more. (new in July 2016)
More JSTOR!
We all need more JSTOR! This summer we added three more modules of the JSTOR Arts & Sciences archive of journals: modules X (strong in sociology, law, business and education), XII (literature and history) and XIII (art history, literature, music & philosophy), adding nearly 600 titles to our JSTOR collections. (new in June 2016)
EJC upgrade
This summer OhioLINK released an all-new platform for the OhioLINK Electronic Journal Center! It features full-text searching and better full-text linking, plus more stable architecture for Ohio's permanent research journal platform. The new EJC is the only place in the world to the search the full text of all the APA journals at one time – not even the APA website provides that level of access! (upgrade in August 2016)
Humanities

A resource for performers, Routledge Performance Archive includes videos of interviews with key figures in theatre history and contemporary practice; masterclasses with specialist actor trainers from around the world; unique footage of legendary practitioners; excerpted and full-length contemporary productions; and documentaries. New in August 2016.
More for humanities:
Naxos Music Library World
Streaming access to the back catalogue of a wide variety of World Music labels, with Smithsonian Folkways as a centerpiece and including titles from Sony, Warner, ARC, and others. (new in July 2016)
CURRENT TRIAL

WhoSampled Pro
A detailed, searchable database of sampled music, cover songs and remixes. Trial available through September 11.
Social Sciences & History

Word on the street is that new sociology grad students are over the moon about this addition to our databases! Policymap is a data and mapping tool and analytics platform that leverages thousands of US national data indicators for demographic and socioeconomic analysis. Its data can be presented as maps, tables, charts, and more. (new in June 2016)

Psychological Experiments Online is a database of audio and video recordings of original psychological experiments from the 20th and 21st centuries as well as supporting primary source documents. Contains valuable original documentation of famous psychological experiments such as the Milgram Behavioral Study of Obedience, the Stanford Prison Experiment, Pavlov's Dogs Experiment, and more. (new in August 2016)
More for social sciences & history:
Business & AMPD
S&P NetAdvantage is now S&P Capital IQ! The new platform includes our NetAdvantage content (industry surveys, reports, directories, etc.) plus expanded company data and executive directories (including compensation information). (upgrade in August 2016)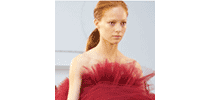 WWD.com is the website for Women's Wear Daily. Our subscription gives us access to current issues of the daily paper about fashion as well as the magazine's online content. Back issues and web content are available back to 1994. (new in August 2016)
Sciences

Last year, BGSU Libraries joined BioMed Central with an institutional Supporting Membership. This means that BGSU-affiliated authors receive a 15% discount on article processing charges for BMC, Chemistry Central and SpringerOpen journals. Keep these open access journals in mind for your research!
More for sciences
Don't forget…
Keep up with the most important academic journals in your field on your phone, tablet, or computer using BrowZine! Browse TOCs or read articles, create a personal bookshelf, and be alerted when new issues are published. Create your free account online or download the free apps for iOS or Android. Learn more at http://libguides.bgsu.edu/browzine.